Cumae: A Mythological Playground
I've asked some lovely ladies based all around the globe to share their travels with us over the next few weeks while we are moving to and settling into Italy! Every Monday until mid-July, I'll have a travel writer/blogger/tour guide extraordinaire share an awesome destination with us. I'm super excited about these destinations and I hope you will be too!
This week, I'm welcoming Rosina E. Khan a Classicist and travel addict, who is sharing myths surrounding Cumae, Italy. This is perfect timing for this post actually, since we've just arrived at our new home. Cumae is an ancient city that is the oldest ancient Greek mainland settlement. Only 12 miles from Naples, Cumae is a good option to visit if you are super interested in ancient Greek mythology as legends and myths surround this archaeological site.
When Daedalus, to fly the Cretan shore,
His heavy limbs on jointed pinions bore,
(The first who sail'd in air,) 't is sung by Fame,
To the Cumaean coast at length he came,
And here alighting, built this costly frame.
--Aeneid VI 14-16, Dryden Translation
Cumae, a small town on Italy's western Tyrrhenian shore, is a land rich with both Greek and Roman lore. In Vergil's Aeneid, Daedalus finally lands in Cumae after his escape from the Labyrinth on Crete. Here, he built a temple to the god Apollo. At the temple, a Sybil, or prophetess, interpreted the words of the twin deity.
The hero Aeneas, who fled Troy and roamed the Mediterranean after the Trojan War, also landed in Cumae. It is here where the Sybil herself guides the pious hero to the entrance to Dis (the Underworld). In Dis Aeneas sees a previous lover, his deceased wife, and future prominent Romans. He is confronted with sad knowledge like comrades who have not received a proper burial and whose souls are in a state of unrest. Because of his poetic treatment of the Underworld Vergil will serve as Dante Alighieri's guide in the Inferno thirteen centuries later.
Cumae is also a location for early Roman history. The last of the Roman monarchs, Tarquinius Superbus (Tarquin the Proud) sought refuge and remained at the court of Aristodemus in Cumae. The Roman historian Livy mentions that Aristodemus became Tarquin's heir after he died in exile in 495 BCE.
The archaeological site of Cumae blends past and present, myth and history. The town is nestled in the Campi Flegrei (Flaming Fields) region of Campania, Italy. This area, west of Naples is geographically active and often smells of sulphur, a phenomenon which must have inspired the ancients. For those who are brave enough, renting a car and driving is the most convenient way to visit Cumae. Private taxis in the Naples/Campi Flegrei area will drive you to multiple destinations in one day. Ask at your hotel for arrangements. The Line 5 train runs from Naples into the Campi Flegrei, you will need to transfer to the SEPSA local bus service in Fusaro to catch a bus into the archaeological site of Cumae.
Practical items: a small snack stand and gift shop are located outside the main entrance. Follow the well-planned paths to a great outlook onto the Tyrrhenian Sea. Under the outlook you'll find a set of restrooms. It takes about two hours visit this site. In addition to the mythological history, the remains of Greco-Roman religion temples, visitors can also explore a Roman settlement. Located slightly outside the park itself, the remains of a Roman bath hypocaust system are fascinating. A Capitolium, a temple to Jupiter, Juno, and Minerva, is the centerpiece of a once thriving city.
For those who really want to use their high school Latin reading, Livy's ab urbe condita (from the founding of the city) or Book VI of Vergil's Aeneid will give background on this wonderful archaeological site. If you really want to raise your geek factor, read Strabo and Thucydides in the Ancient Greek. There are several (modern) Latin inscriptions around the site.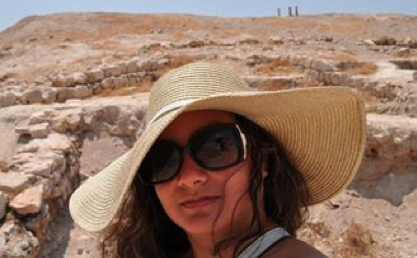 Rosina Eileen Khan is an award-winning classicist, Fulbright recipient, and historical architecture enthusiast. She seeks to help readers appreciate their built environment. She lives in Indianapolis, Indiana (USA) and throughout her travels stops to marvel at the architecture around her. More of Rosina's work can be found at www.rosinakhan.com, and she welcomes communication at: rosinakhan@icloud.com.